[lmt-page-modified-info]
Are you an adrenaline junkie?
If so, chances are that you love venturing out into the wild and exploring vast deserts and dense forests. But a person needs the proper gear when planning a trip to an unknown land.
Best Overall
Dimensions
25.75 x 3.375 x 1.25 inches
Blade Material
High carbon stainless steel
And while a complete outdoor gear kit involves multiple tools, the most important of them all remains the machete.
You cannot go out in the wilderness and not have a sharp, robust, and reliable knife at your disposal. With that said, choosing the right type of knife can be difficult with so many options.
To save you from getting cross-eyed from going through a plethora of webpages overflowing with knife choice, we have put together the ultimate machete guide for you.
Once you go through this article, you'll be better equipped to make the right machete purchase.
Best Machete – Reviews & Buying guide for 2020
Marbles MR394S Machete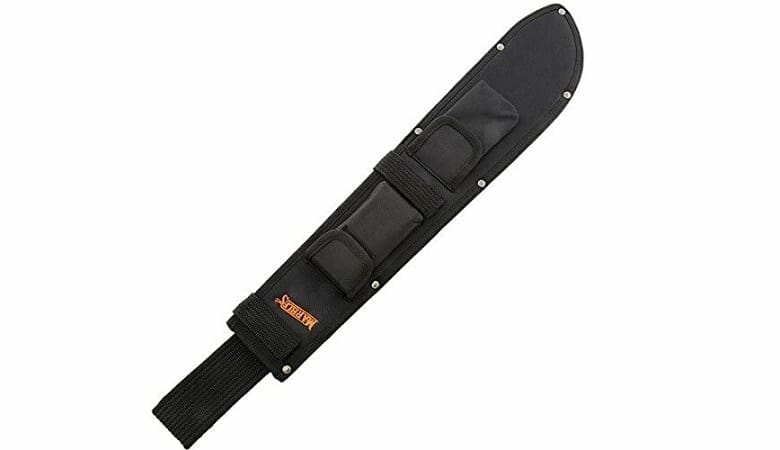 Pros
Marbles knives are known for producing remarkable all-rounder knives that offer sharp edges and firm gripping planes. This Marbles' beauty is yet another mechanical wonder under the manufacturer's belt.
It comes with a steel blade that offers razor-like sharpness that can cut through woody tree limbs and fillet wild species seamlessly. The blade is made with high-quality steel, which is also corrosion-resistant.
The handle on the machete is made of polypropylene with the upper corners pressed inwards, which offers a secure gripping opportunity to the user.
The Marbles Machete comes with a sheath that's made of nylon and has two velcro straps to keep the knife snug in place.
The sharp blade on the tool comes with saw teeth that make for an incredible tool for the wilderness.
Furthermore, the angular tip of the blade makes the machete an excellent knife to cut through thick and robust vegetation in a fraction of time. This Marbles Machete is the perfect machete when navigating through the dense forest.
It is probably the best machete on the market. You can even lookup the reviews to see for yourself; you might even come across fans that call this Marbles baby the best machete in the world for its ergonomic structure, sturdiness, and value for money
Cons
There are no notable cons of carrying the Marbles Machete; however, some people might find the absence of a rivet near the top on the sheath a drawback.
Since the blade on this machete is exceptionally sharp, it can cut through the sheath with frequent use and lead to an accident. However, with a bit of caution, the possibility of the sheath ripping apart is pretty much nonexistent.
Be sure to slide the knife in smoothly and avoid scraping it with the sheath too much. It will keep the nylon intact for longer durations.
Extra Features
The sheath that comes with this Marbles' machete has two built-in pockets to carry sharpening stones.
In addition, the machete also comes with a complimentary sharpening stone so that you don't have to look elsewhere to sharpen your tool. The stone is rough and sharpens the blade-like magic.
And the best part is that you don't have to worry about keeping it in a caddy or your backpack in fear of losing it, because the sheath offers you just the compartment to carry it. So, your stone moves with your machete.
Buying Advice
Marbles Machete with stone is an excellent machete choice if you are looking for a comprehensive tool for your outdoor adventures.
It cuts through sturdy and gnarly trees with the same effortlessness and slices other wild species like a butcher knife. You even have the option to use it for carving wood or hacking the ground.
And since it's not too heavy, you can carry it around with ease while the sheath keeps it safe and secure under wraps.
This Marbles Machete is not even hard on the pocket, so you don't even have to worry about spending big bucks on getting the best outdoor gear. It is undoubtedly the best outdoor machete option at a super reasonable rate.
Ontario Knife BSH Machete
Pros
If online machete reviews are anything to go by, then this machete is a high-quality machete without a doubt.
The Ontario 18-inch machete from the manufacturer's military machete series is a magnificent piece of outdoor gear. It comes with a substantially long stainless still blade with unbelievable cutting prowess.
The blade on this ultimate knife is finished with zinc-phosphate, which gives it just the right amount of sheen and edge of cutting.
The machete is ideal for edge retention due to the hard steel edge. It comes with a smooth and soft plastic handle that allows the carrier to have a secure grip when maneuvering the knife.
The classic Latin machete blade is on the machete is ideal for cutting through fibrous palms, thick grasses, and softwoods. Simply put, the blade on this Ontario beauty is versatile when it comes to slashing through the woods.
The wilderness is all about dealing with unexpected situations. Having a knife that can be used for more than one purpose and withstand harsh conditions can make a person better equipped to deal with unanticipated glitches of the wild.
Therefore, this military machete is an excellent option for the dense forest.
In addition, the knife is a full tang tool, which means that the blade runs through all the way down into the handle.
Furthermore, the plastic slabs are riveted in place on multiple points around the edges, so the chances of the blade loosening up with use are slim to none.
There is also a lanyard hole at the bottom of the handle so that you can attach the machete with other tools if need be. And the nylon sheath keeps the machete safe while not in use.
Cons
The only drawback of the Ontario military 18-inch machete is that it's quite heavy. Even the most buff of machete users can have a hard time holding up the tool.
If you plan to traipse through the wild for an extended while, then maybe this is not the machete for you. Some people might also consider this ultimate knife expensive, and the fixed blade may make carrying the knife a nuisance for some.
Extra Features
The Ontario military 18-inch machete with sheath comes with a belt loop so that you can easily attach it to your body when not in you. And since it's a heavy-duty machete, carrying it on the waist is much more convenient for users.
Buying Advice
Ontario knives limited is known for making top-quality knives, and this piece is no exception. It's definitely an all-rounder.
Even though it is more suited for doing light and precise cutting, but this military machete can also perform high-stake jobs with ease.
It's made from high-density materials that make the knife extremely sturdy and reliable, especially in harsh weather conditions.
The Ontario 18-inch military machete is well made and durable that has the potential to last you a lifetime.
Armory Replicas Book of Eli Machete
Pros
The Book of Eli Hunting Machete has all the qualities to be an outdoor enthusiast's best friend. It comes with a sharp; high carbon stainless steel Kukri styled blade that's ideal for any outdoor activity from cutting to hunting.
The natural wood handle is riveted in on three points that keep the blade firmly attached to the handle.
The nylon sheath that comes with the machete keeps the tool in place safely, thanks to the easy-glide zipper, and the shoulder strap makes carrying the machete highly convenient.
The blade of the Book of Eli hunting machete features two angles close to the edge, which offers high splitting power and sharper edging.
It also bears seven holes, just like the original knife that was used in the movie. If you are a fan of Book of the Eli, then you need to check this machete out.
Cons
The wood handle on the machete can make for an inferior gripping plane, especially in wet weather. For a newbie, carrying a machete with a wooden handle can be a bit challenging.
Also, the sharp blade on the knife may damage the sheath pretty quickly, so you might have to look for another sheath.
Extra Features
The shoulder strap that comes with the Book of Eli hunting knife is excellent to help the user in carrying the knife. It also allows the user to flaunt this hunting bad boy unabashedly.
Buying Advice
If you are looking for a mighty hunting knife at a reasonable rate, then you should definitely consider this replica of Eli's machete from the Book of Eli.
This knife can be a great addition to anyone's machete collection because of its sharpness and durability. The robust machete is sharp as surgical blades and has the stamina of lasting its users more than a lifetime.
Even if you don't want to buy it as your primary knife for your outdoor adventures, you can definitely get it as your second or supplementary knife.
Nissaku Japanese Garden Machetes
Pros
This Nissauku Japanese Garden Machete is the perfect knife for anyone who is starting their journey as a knife enthusiast. It's sturdy, it's long, and it features a rectangular blade that is perfect for cutting any kind of light vegetation.
The HRC 58 stainless steel makes the blade sharp, which makes slicing through things effortless. The handle holds the blade upright and is riveted in place with two bolts near the lower end of the blade.
The jute sheath comes with a buttoned strap so you can keep the machete safe when not in use.
Cons
This Japanese garden machete doesn't offer anything more than just a sharp edge that can cut through the plantation in a forest.
If a person wants to have a machete that can slice through robust and fibrous textures alike, then this is not the knife for them.
Also, the tang on this machete doesn't go all the way down through the handle, so some people might not feel too comfortable using the Nissauku Japanese garden knife.
Extra Features
The garden machete comes with a hand strap that can be used to keep the knife secure in the hand while using. So even if the machete slips from your hand while making a swift cut, it will not drop to the ground or hit anyone standing nearby.
Buying Advice
As mentioned earlier, this machete is excellent for a newbie, but for an expert who likes to go into the deeper end of the woods, this knife may shortfall of what's needed.
Whetstone Cutlery Full Tang Machete
Pros
The Whetstone Cutlery full-tang machete is durable with multiple blade qualities. The stainless steel blade comes with coarse saw teeth with back serration, which makes it robust and ideal for cutting through hard objects.
The 17-inch blade goes down all the way through the handle, which keeps it secure in place. The handle is riveted at 3 points with high-quality bolts to ensure maximum structural stability.
The handle of the knife is made of ABS rubber that offers strength, rigidity, and toughness to the entire knife structure.
It also features a handguard for a better grip, and the wrist lanyard at the end of the handle is excellent for attaching the knife with other tools.
The long blade combines with saw teeth on this Whetstone beauty makes for a terrific machete for the outdoors. It can cut through a delicate plantation or tough vegetation with the same ease and effortlessness.
Cons
The only drawback of using this Whetstone machete is that the blade may get dull with excessive use. So, you might have to sharpen it from time to time.
Extra Features
The handguard on this Whetstone knife is definitely an added benefit because it offers the user superior grip and control over the tool when swinging it around.
Buying Advice
The ability to clear a large area in one go and cut through any kind of plantation is what makes a machete ideal for the dense forest.
And that ability is abundantly present in the Whetstone full tang rubber grip machete. So if you want the perfect outdoor knife for your trip into the woods, then this machete is for you.
Frequently Asked Questions related to Machete Use
How to properly use machete?
Using a machete can be challenging if you don't know how to use it correctly.
Many a time, young adventurists get inspired by Rambo and decide to take the plunge, without realizing that Sylvester Stallone had proper training before he went around slashing and hacking with a machete on screen.
The most common problems that arise when using or trying to use a machete are
Swinging the machete too close to the body
Having an askew swinging angle
Getting hand blisters
Having a slippery grip
A machete is a sharp object. If a person is not careful when using it, they can severely hurt themselves or others around them. When you go out to use a machete, make sure you are not tired.
A person must never use a knife when they are exhausted. Your mind needs to be sharp and your reflexes at their best when dealing with a machete.
If you are fresh and ready to have some Rambo-inspired action in the wild or your backyard, then be sure NEVER to swing the knife too close to your knife.
Even if you have a grasp of steel on the knife handle, don't move the machete close to your body because the chances of it slipping away and hitting you are always present.
Even the most experienced outdoor enthusiasts can have accidents if they move a sharp tool too close to their bodies. So the first thing to remember when using a knife is to keep it at a safe distance from the body.
The next thing to be careful about is the angle at which you plan to swing the machete. If you are generally clumsy, then you need to be extremely careful.
Having an imperfect angle can lead to unfortunate slitting accidents within seconds. Make sure you precisely read the distance between the object you are trying to cut and the machete, then form as accurate an angle as possible.
And if you are not sure if your swinging angle is perfect, then move the knife in a controlled motion. After striking the targeted object multiple times, crank up the force of your hand movement.
Repeatedly striking the object gives the user adequate chances to practice their angle according to the relative motion.
The third common issue that people have when using a machete is getting hand blisters. It's pretty common and can be managed by being careful about the handle material.
If your skin is sensitive, then make sure that you don't get a knife that comes with a rough handle. Get a machete that has a nylon handle. Also, sometimes, a person can develop skin lesions if the tool they use is too heavy.
You might find it hard to believe, but having a heavy tool increases the intensity with which your hand and the handle comes in contact. And as a result, you can develop blisters on your hand.
To avoid getting hand wounds, thoroughly go through the specs of any machete that you wish to buy. And try to get a lightweight tool to further reduce the chances of developing hand sores.
Dealing with a slippery handle can be tricky, especially for a knife fledgling. Slick and smooth knife handles are usually too slippery and make for an inferior grip.
To avoid having a loose grip, buy a knife that has a texturized handle. You cannot effectively texturize a knife handle at home; therefore, it's better to get one that's already texturized at the factory.
What size machete do you need?
The right machete size is different for different people. There is 'no one size fits all' when it comes to choosing the right size of a machete. A host of factors needs to be considered before making the size choice when buying a machete.
You need to know if you want to clear out expansive areas with your tool or if you need to individually pick out twigs and limbs from trees with your tool. Your need determines the right size for your machete.
Typically machetes range from 10 inches to 28 inches. If a person wants a knife that has an extensive reach, then they should go for a longer and larger machete.
However, for someone who needs to have an assistive tool for gardening, a shorter machete will work fine too.
In a nutshell, you cannot buy a machete based on someone else's experience. That is if you ask a friend and they tell you that they have a 20-inch machete and it works well for them, don't immediately order the same tool.
Because you never know if you and your friend have the same exact cutting needs. It's okay to ask for suggestions but always decide on a product after thoroughly considering your needs.
How to sharpen your machete?
There are many ways of sharpening a machete, but we have the top five ways of getting the job done quickly and effectively.
We are going to share five tools with you that you can use to make your machete sharp as a razor. All you need to do is rub your knife's blade against those tools to get razor-like sharpness in no time.
Belt Sanger
Grinder
File
Dremel
Whetstone/ Rock
When sharpening your knife, make sure to grip it from the handle form the handle and the blunt edge of the blade to make controlled movements. Also, don't forget protective gear when handling your knife.
Is a Machete the Same Piece of Gear as a Hatchet?
No, a machete and a hatchet aren't the same piece of gear. While certain types of machetes and hatchets may share a resemblance, their uses are usually very different.
For example, hatchets generally have a wedge-shaped head. The plain cutting edge this comes with makes these tools better adapted for severing wood fibers when chopping wood more cleanly.
In contrast, machetes come with a much thinner blade that's better for slicing through a wide range of soft vegetation and the dense underbrush that some outdoor conditions might present.
So while you may be able to cut through the challenging conditions in the thickest forest with a hatchet, technically speaking, any regular machete would be a more valuable addition to your survival kit because of the excellent grip and control it affords in such conditions.
Does the Type of Machete Design Matter?
Yes, the type of machete design matters a lot. This is because, depending on the shape of the carbon steel blades, their uses may differ significantly.
This is why some of these survival knives are only used as chopping tools while others can serve as a slicing or cutting device. Because of this, when settling on a machete design, it's important to consider what use you intend to put it to first.
For example, individuals who intend to take on especially woody and dense vegetation in more challenging conditions may prefer jungle machetes with a weight-forward design. These models of machetes position the heaviest part of the blade at the extreme tip and therefore, the level of sharpness of the machete is further enhanced so it will be able to cut through tougher plants on impact more easily.
Some other models of machetes are designed to complement their ergonomic handle so that a user doesn't have to struggle to find a sweet spot that helps them cut and slice with greater precision.
What are the Most Common Machete Blade Materials?
Stainless cold steel, high carbon stainless steel, and carbon steel are the most common machete blade materials currently. Each of these materials has various features that make them popular choices in the knife industry.
Stainless Cold Steel
Due to its aesthetically pleasing features, many machete blades made of this material only serve a ceremonial or decorative purpose. Stainless cold steel machetes have a huge following because their level of sharpness is easy to maintain and they don't rust quickly, if at all.
However, this metal is soft and can't withstand extensive use in tougher outdoor conditions. Also, it's rather expensive to purchase.
Carbon Steel
Machetes have traditionally been made of several inches of carbon steel. Many outdoorsmen prefer this type of machete blade material because it's harder, cuts through dense green vegetation better, and can maintain edge retention for an extended period.
Also, carbon steel blades command more reasonable price tags, especially when compared to available alternatives. However, these blades can be very difficult to resharpen and succumb to rust easily.
High Carbon Stainless Steel
These types of survival knives combine the best of both worlds and give you a sharp, rust-resistant, and durable blade. The downside is that they don't always come with affordable price tags and have a relatively low resistance to heat.
What's the story behind Machete?
The machete, as we know it today, was first manufactured in Spain and was reengineered from the quasi-sword.
The inspiration for the mechanical wonder is believed to be taken from ancient times when people in the early civilizations used bone implements, tusks, and antlers to cut through vegetation.
With time, the tools became more and more specialized, and consequently, the first machete was manufactured in Spain after the 18th century.
Conclusion
A machete is an excellent tool when embarking on a journey to the wild. But not all machetes are equal in caliber and quality.
You need to be very careful when purchasing an outdoor knife because getting stuck with an improper tool can lead to accidents.
Now that you have browsed through our ultimate guide on the best machetes for the dense forest, you can make an informed choice.
Go for camping, hiking, hunting, or any other wild experience with any of the machetes mentioned in our guide and learn about their specifications first hand.
We have shared with you best machete reviews so that you can choose a good machete for yourself without having to do unnecessary legwork.
---