If you are looking for some new kitchen knives, the kitchenware brands Wusthof and Henckels have probably come up.
At first glance, the two knife companies may look similar. In many ways, they are!
However, the two companies have a few differences that may influence your decision between the two.
This guide will cover the difference between Wusthof vs Henckels. Within our exploration of differences, we will also offer advice on which one you should use.
Choosing a solid set of kitchen knives is important. By the end of this article, you will know what brand is most suited to you.
If you are ready to get started, keep on reading.
What Is a Wusthof
Before we get into the Wusthof vs Henckel's debate, let's learn a bit more about the Wusthof company.
A Wusthof is a product made by the Wusthof brand, a kitchenware manufacturing company. Wusthof primarily produces kitchen knives. Thousands of chefs around the world use Wusthof kitchen knives.
The brand produces a wide variety of knives. You can find mid-priced knives for the common kitchen cook as well as high-end knives that world-famous chefs use.
The company is based in Solingen, Germany and sells knives to over 80 countries.
The company sells knives, but they also offer customers a variety of knife sharpening products and knife storing blocks/holders and cutting bases.
Nearly all of their knives are made of a steel alloy. This alloy contains carbon, chromium, molybdenum and vanadium. All of these alloys increase the steel's corrosion resistance and strength.
History and Reputation
In 1814, Johann Abraham Wusthof founded Wusthof in Solingen, Germany. He initially set up a shears factory that also produced iron and steel goods.
For the first few years of the business, Wusthof did not have its own trademark. The company was working on a commission for other firms. However, in 1836, Eduard Wusthof, the founder's son, produced pocket knives under the Wusthof name.
In 1880, Eduard's sons developed a steam-powered factory and started to produce products. When 1881 came around, the company had more products to its name. During this time, Robert Wusthof, Eduard's son, travelled to America to start marketing their knives.
During the early 1900s, brand recognition continued to grow as Wusthof appeared at many tradeshows. When the 1970s came around, the company stopped producing other products such as cutlery and pocket knives and solely focused on knives for both home and professional chefs.
The company still only has two factories in Solingen, Germany. However, about 65% of the knives they produce sell in the US.
Wusthof has always been and will always be at the forefront of the knife-making industry. Consumers around the world know the company for its advanced knife-making technology. The company now uses Precision Edge Technology, meaning that lasers sharpen the knife-edge at a 28-degree angle compared to the 40-degree angle they used before 2010.
Due to their advanced technology and family pride, Wusthof never disappoints consumers with quality. Even today, members of the Wusthof family still run the company.
Because of the quality of their knives, Wusthof is an official supplier and partner to the Japanese and German Chef Associations. Celebrity chefs such as Gordon Ramsay, James Martin, Jamie Oliver and Emeril Lagasse also use Wusthof knives.
Feature Product
One of Wusthof's bestsellers is the Wusthof classic chef knife. This product is part of the Wusthof classic line. The line has over 70 knives; you will find a knife for everything, including cheese knives to salmon slicers.
The classic line is forged and has full-length boosters with full tang. They are finished with a triple-riveted polyoxymethylene handle (black).
In 2019, the Wusthof 16 cm classic chef's knife won the best chef's knife in a vote by Ideal Magazine.
The classic chef knife has a handle that feels like wood and a full bolster. It is not too heavy and is well balanced.
What Is a Henckels
Before we dive into the Wusthof vs Henckel's debate, let's learn more about the Henckels brand.
Zwilling J. A. Henckels, more commonly known as Henckels, is a German manufacturer that produces kitchenware. Mostly all Henckel knives are produced in Solingen, Germany.
Henckels is one of the oldest and largest kitchenware producers. They have manufactured many products, including knives, scissors, flatware, and cookware.
Henckels produces the majority of their blades from high carbon stainless steel. During the manufacturing process, Henckel's cold-hardens the blade to increase the blade's stain resistance. This process includes dipping the blade in liquid nitrogen after the finishing process. Doing so will also increase the hardness of the knife.
Furthermore, the forging process increases the knife's edge retention, balance and weight. This process also decreases the potential of metal fatigue.
History and Reputation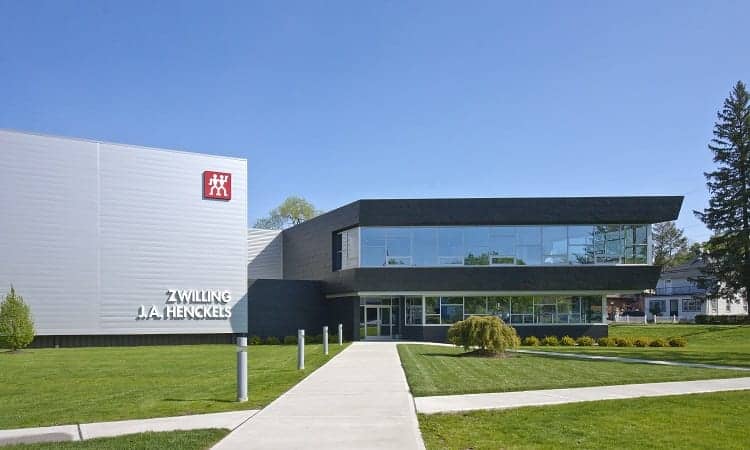 Peter Henckels founded the company in 1731 on June 13. The founder was a knife-maker.
In 1731, Peter Henckels registered the company as "Zwilling." Peter Henckels also registered a logo with the name, making this company one of the earliest establishments to have a trademark.
Around 1818, Henckels opened a trading outlet in Berlin. Throughout the years, the company continued to grow and opened a store in New York around 1883. Just a year later, Henckels opened a shop in Vienna as well.
One of the bigger defining moments of the company was in 1851. Henckels showcased their products at the 1851 Great Exhibition, located in Great Britain at the Crystal Palace. During the exhibition, the company was presented with an international knife smithing medal.
The company received yet another award in 1900 in Paris. J. A. Henckels, the founder's son, received the Grand Prix prize. Furthermore, the company received the Grand Prix award in St. Louis and the Prussian State Golden Medal a few years later.
Many consumers know the brand for its high standards, high-quality products and years of experience in the knife industry. Top chefs such as Gordon Ramsay use Henckels knives.
Feature Product
The Zwilling Pro 7-inch chef's knife is one of the most popular products that Henckels offers.
With its ergonomic style, users will be able to hold the knife comfortably. It has a good balance and is not too heavy to carry. The 7-inch chef knife can cut various food items such as vegetables, herbs, meat and fish.
The blade on the Zwilling Pro knife is very durable and is corrosion resistant since the blade is ice-hardened.
Henckels promotes the knife as one of the most user-friendly knives in the industry. Everybody, not only professional chefs, can use this knife with ease. With its professional pinch grip and curved bolster, users will feel comfortable cutting with this knife.
This knife was designed in Italy and manufactured in Germany. The blade has a curved front and straight back to accommodate both western and Asian cutting styles.
Comparison
Now that we are more familiar with both companies, it is time to dive into the Wusthof vs Henckel's debate.
We will first begin by covering the similarities and differences.
Similarities
Location
One of the main similarities is that both companies originated in Solingen, Germany. Furthermore, the modern headquarters of each company also resides in Solingen.
Solingen is a city that has a population of over 150,000. The city is the second-largest city after Wuppertal in the Bergisches Land.
Unsurprisingly, people commonly refer to the city as the "City of Blades." Not only is it home to Wusthof and Henckel's, but there are also several other famous knife manufacturers in the area such as WKC, Noker, DOVO, Linder, and many more.
Knife Blade Material
Both companies manufacture their blades from high-carbon stainless steel.
Since the knives are similar materials, they also have similar characteristics. High carbon stainless steel blades are strong, durable, long-lasting and have high edge retention. You will not have to worry about either blade deteriorating quickly.
Another main feature that the knives have in common is high corrosion resistance. Stainless steel is one of the most corrosion-resistant metals out there, which is a major reason why both companies use the metal.
The high-quality material also produces well-balanced knives with amazing sharpness.
Family Business
When comparing Wusthof vs Henckels, it is hard to miss the fact that both started as family businesses.
Peter Henckels founded Zwilling J. A. Henckels. His son, Johann Abraham Henckels, then joined the business and later became the company's namesake. Johann also went on to receive numerous awards for the company in the early 1900s.
While Henckel's family members do not currently run the company, the founding family still greatly influences the company today.
Johann Abraham Wusthof first founded Wusthof in the early 1800s. Johann's son, Eduard Wusthof, joined the business later. Eduard had two sons named Robert and Eduard, who relocated the factory to its current headquarters.
Even today, two cousins named Viola Wusthof and Harald Wusthof currently run the business.
Both Henckels and Wusthof heavily relied on family ties to get the companies up and running. If it wasn't for the men who founded the companies and their sons, the companies would not be as they are today.
The Founders of Each Company Had the Same First Name
Since each company originated in the same place, it is not too hard to believe that both founders had the same name.
The founders of Wusthof and Henckels had the same first name of Johann Abraham.
Johann was a very popular name in Germany at the time. Furthermore, people commonly paired Abraham with Johann. Even though it is still a strange coincidence, those names were pretty prevalent at the time.
Differences
Years of Experience
When comparing Wusthof vs Henckels, one of the main differences is the years of experience that each company has.
If you judge age alone, Henckels has more experience than Wusthof.
Since Henckels was founded in 1731, the company has over 290 years of experience manufacturing knives.
On the other hand, Wusthof has about 207 years of experience since the company started in 1814.
Wusthof Blades Are Harder Than Henckels
While both blades will look relatively the same, there are a few minute differences between Wusthof vs Henckels.
Most Henckels blades are 56-57 Rockwell when it comes to the hardness rating. On the other hand, Wusthof blades have a hardness rating of 58 Rockwell.
This means that while Henckels blades may be easier to sharpen, Wusthof blades will probably last longer.
Wusthof Blades Have a Slighter Narrower Angle
While the difference is pretty minute, you may still notice it while cutting.
While Henckels blades are typically sharpened to 15 degrees on each side, Wusthof sharpens their knives to 14 degrees per side.
However, both companies offer blades that they sharpen to 10 degrees on each side.
Which One Is Better for Me?
When it comes to choosing between Wusthof vs Henckel's, it will depend on personal preference.
However, there are a few factors you can keep in mind.
If you want to support a true family business that founding family members still run, Wusthof will be a great choice.
On the other hand, Henckels has 290 years of experience making knives, while Wusthof has about 207 years. If you value real experience, then you may want to choose Henckels.
When it comes to the actual blades, both companies produce their blades with high carbon stainless steel.
If you want a harder blade, go with Wusthof. Henckels blades may be easier to sharpen, though.
Lastly, Wusthof has seven different product lines, while Henckels has over thirteen. If you are looking for a wide variety of lines, Henckels may be the better choice.
Conclusion
We hope that this guide has helped you decide between Wusthof vs Henckels.
Overall, Wusthof and Henckels are top-notch brands that offer high-quality products.
Both companies originated in Solingen, Germany. The majority of each companies blades are high carbon stainless steel.
Henckels have over thirteen knife lines. The blades may also be easier to sharpen. A major defining feature of Henckel's is that they have over 290 years of experience in the knife industry.
Wusthof has seven main lines of kitchen knives. Compared to Henckels, they are a bit harder and have a slightly narrower angle. One of the main defining features of Wusthof is that members of the founding family still run the company today.